FROM THE BIG SPLASH TO THE LAST SPLASH, 2023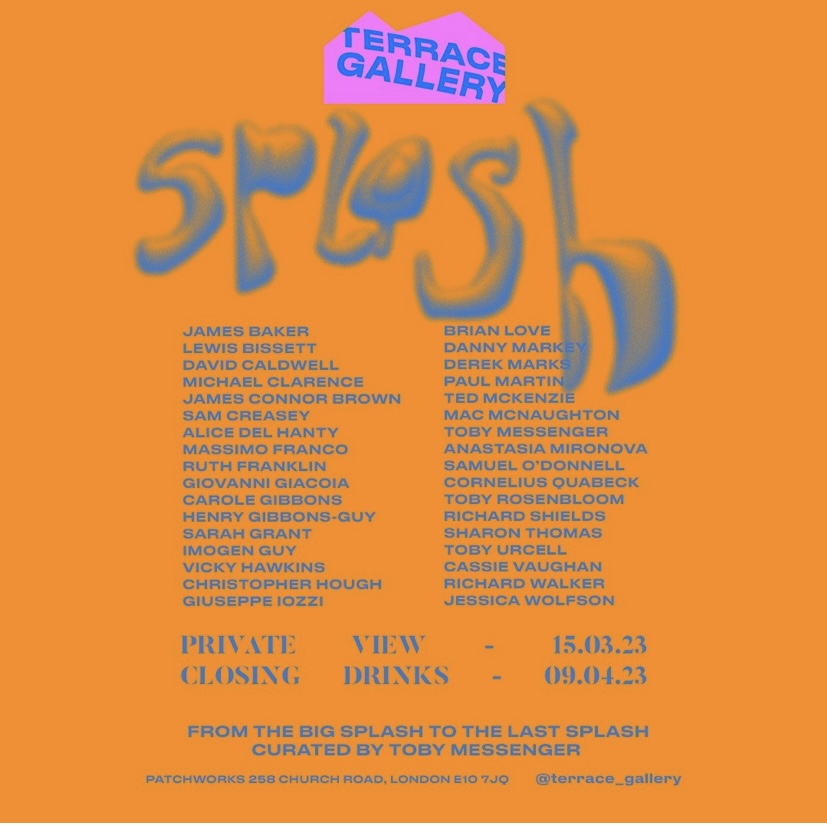 FROM THE BIG SPLASH TO THE LAST SPLASH, TERRACE GALLERY, LONDON, 2023
'FROM THE BIG SPLASH TO THE LAST SPLASH' Curated by @toby_messenger_ @terrace_gallery @patchworks.xyz
PV 6-10pm Weds 15th March @patchworks.xyz 258 Church Road, London E10 7JQ
A cross generational, DIY painting show in east London split down the middle – Glasgow, London and a few from further afield.
poster designed by @discordo
Artists featured: @carolegibbonsartist – Paul Martin – @jamesbaker6235 – @formerly_known_as__boais_ane – @dcaldwellartist – @_screase_ – Massimo Franco – @ruthfranklin_artist – @giovanni.giacoia.artist – @vickymhawkins – @dannymarkeyartist – @macwmcnaughton – Derek Marks – @evilriverrecords – @rich.ard_walk.er – @toby_rosenbloom – @richartshields – @jamesconnorbrownartist – @michaeljohnclarence – @samuel_odonnell – @hgibbonsguy – @imogenguy – @alicedelhanty – @c.hough89 – @giuseppe_iozzi – Brian Love – @ted.mckenzie_ – @toby_messenger_ – @anastasia_mironova_iz_che – @sharonthomasart – @thedavincitobe – @cassie_vaughan_ – @sfgrant – @jessicawolfsonartist
Exhibition essay written by Dr Catherine Owen @forjustamomentherewithyou
Additional thanks to @theredferngallery for facilitating the loan of works by @dannymarkeyartist
And live music through the evening – @the_language_of_love_band
Terrace History
@karl_bielik first opened Terrace Gallery in 2004 as an artist run Gallery in Hackney, London.
Exhibitions have been held at Terrace Studios, a reclaimed wasteland and in a pub back room.
Over the years more than 50 exhibitions showing works by over 500 Artists including the likes of
Matthew Collings, Bob and Roberta Smith, David Leapman, Mali Morris and Eddie Peake.
In August 2022 Terrace Gallery relocated to Patchworks, a multi purpose warehouse space in Leyton.
The primary focus of Terrace Gallery is painting.