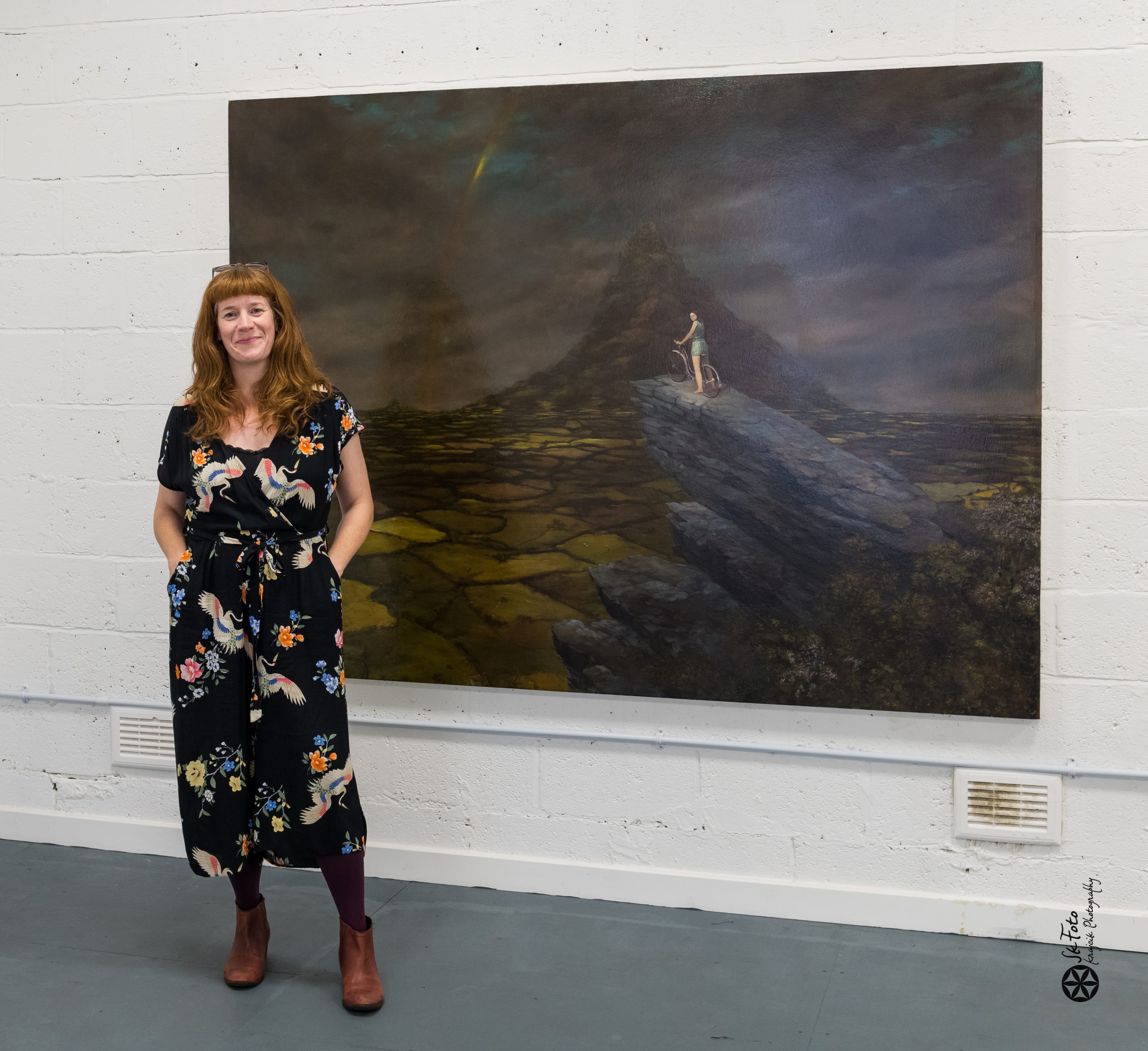 Sharon Thomas (b. 1979) is a British figurative artist and lecturer living and working in Glasgow, UK.
A central theme within her work is that of the role of artist as author, analyst, and maker; questioning social constructs, their consequential rituals and arts role within that.  Using imaginary material, excerpts from her personal history and the 'real' history of art, Thomas presents fictional alongside factual narratives where drawing, painting and installation explore subjects such as gender, class and sexuality.
Thomas' drawings and paintings have been invited for solo exhibitions across Europe, including locations such as Museet for Religiøs kunst, Denmark; Mandrake Gallery, Los Cruces, New Mexico and Paisley Museum, UK; with exhibitions also taking her work routes across the USA via art fairs in Chicago, USA and Milan, Italy  represented by Brooklyn gallery Jack the Pelican Presents; then Washington DC, USA and Cortona, Italy with  Italian gallery Teverina Fine Arts.
Purchases of Thomas' work from these exhibitions have entered collections such as that of the Danish Royal Collection; Ferrari family, NYC; Museet for Religiøs Kunst, Denmark; Glasgow Museums and private collectors in New York, Europe and the UK.
In 2011, Thomas' work exploring gender exposed a gap in the visual fine art record of women in contemporary Britain. The Centenary of International Women's Day that year provided context for the work Herstory Portrait: a series of seminal portrait paintings that Thomas produced of dominantly British powerful women, painted from live sittings currently touring the UK.
The exposure that this work gave to the recognition of exemplary women in British society prompted the seminal work that Thomas went on to produce in the same year: Mary Barbour Monument: A proposal.  This limited print edition, part of a exhibition and publication: 21 Revolutions celebrating the 21 years of Glasgow Women's Library, focused upon the life of a pioneering Glasgow woman called Mary Barbour: the woman that led the Rent Strike protests of 1915.
With the public attention that this etching inspired, Thomas went on to lead a campaign to commission the installation of a permanent monument of Mary Barbour; which by way of establishment of a charity raising £100k successfully set a statue of Barbour in Glasgow's shipyard area: Govan in 2018.
For Thomas, teaching is an integral part of her artist's practice. In recent years she has operated as Fine Art lecturer within an array of Scottish academic institutions such as Glasgow School of Art, Strathclyde University, Fife College and House for an Art Lover, Glasgow; providing structured courses in life drawing, technical drawing and painting, as well as individual studio critique. This passion for merging the role of artist with that of teacher has also provided the opportunity to involve community arts with the projects that she has managed.
Thomas received a Master of Fine Art degree in Painting from the New York Academy of Art: Graduate School of Figurative Art sponsored by Lord Sainsbury, UK and Guggenheim/Wilkinson, USA and a Bachelor of Fine Art degree (Drawing and Painting) from Glasgow School of Art, UK.  She is recipient of the New York of Academy International Council Travel Award.
Being awarded a Sainsbury scholarship to develop her studio practice in Italy at the British School of Rome supported Thomas to establish her career in Europe.  Here she became represented by Paolo Bonzano gallery, Rome and Teverina Fine Art, Cortona, Italy.