Sublime to the Ridiculous, 2009
15th November - 2nd December, 2009
Mnisikleous 18 & Diogenous St, Plaka, Athens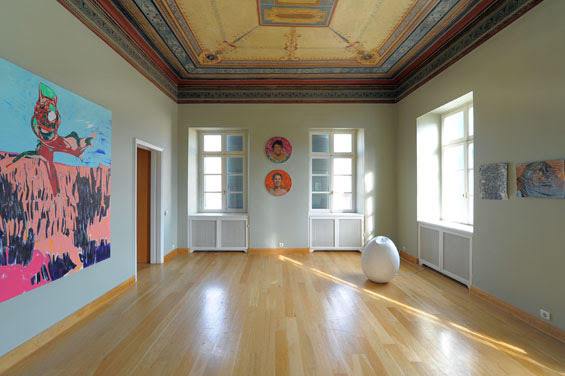 Works by Nicola Tyson, Sharon Thomas and Deanna Maganias, Sublime to the Ridiculous, Athens, 2009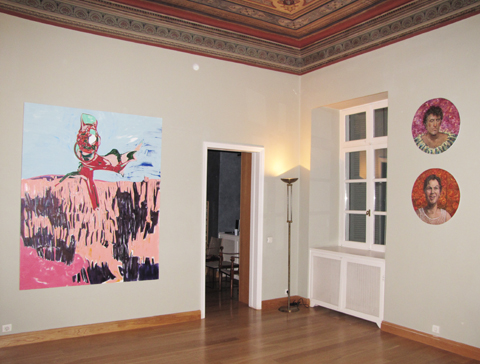 Works by Nicola Tyson and Sharon Thomas, Sublime to the Ridiculous, Athens, 2009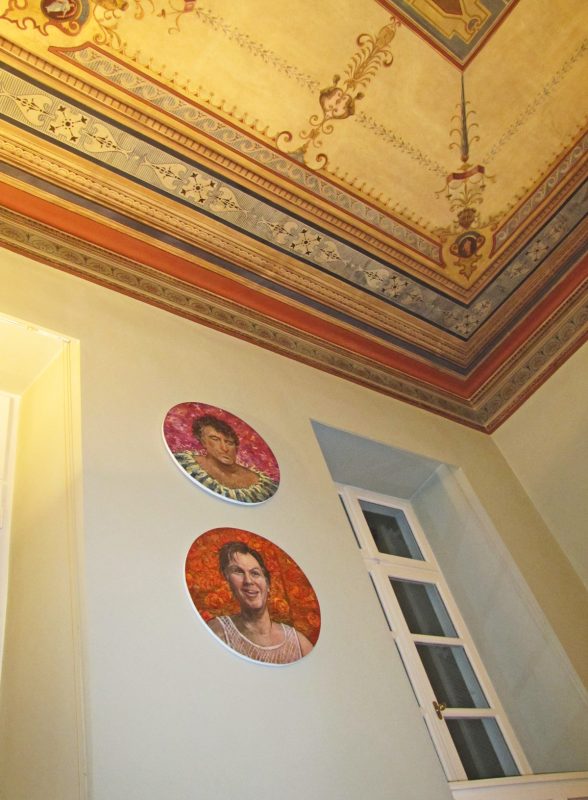 The Clown and Nice Peonies Mister, 2009, by Sharon Thomas, Oil on panel, 60cm diam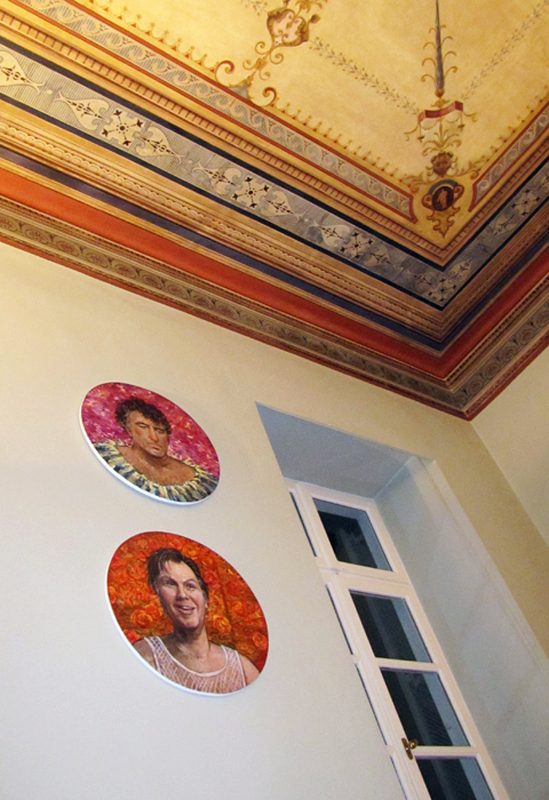 The Clown and Nice Peonies Mister, 2009, by Sharon Thomas, Oil on panel, 60cm diam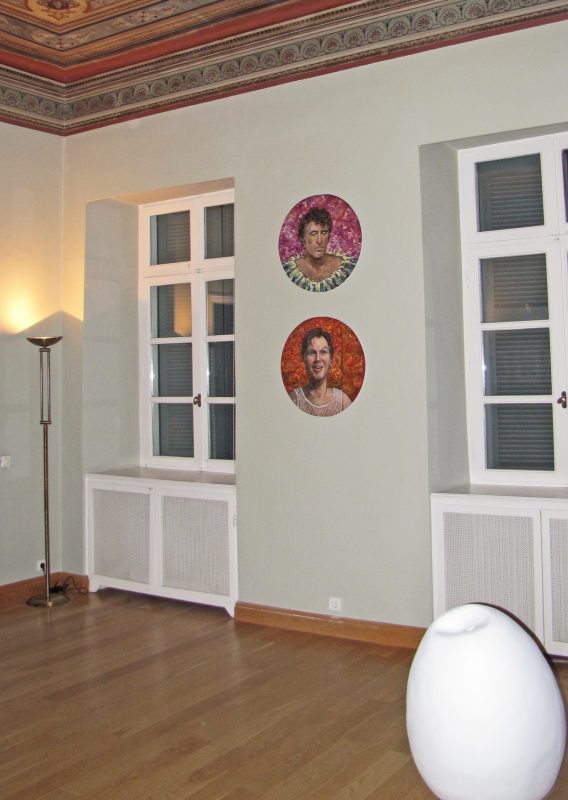 Works by Sharon Thomas and Deanna Maganias, Sublime to the Ridiculous, Athens, 2009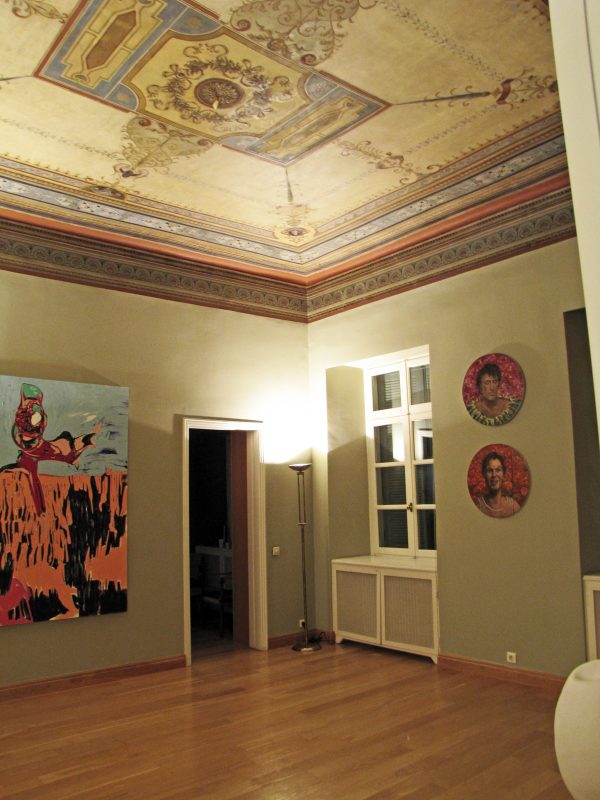 Works by Nicola Tyson and Sharon Thomas, Sublime to the Ridiculous, Athens, 2009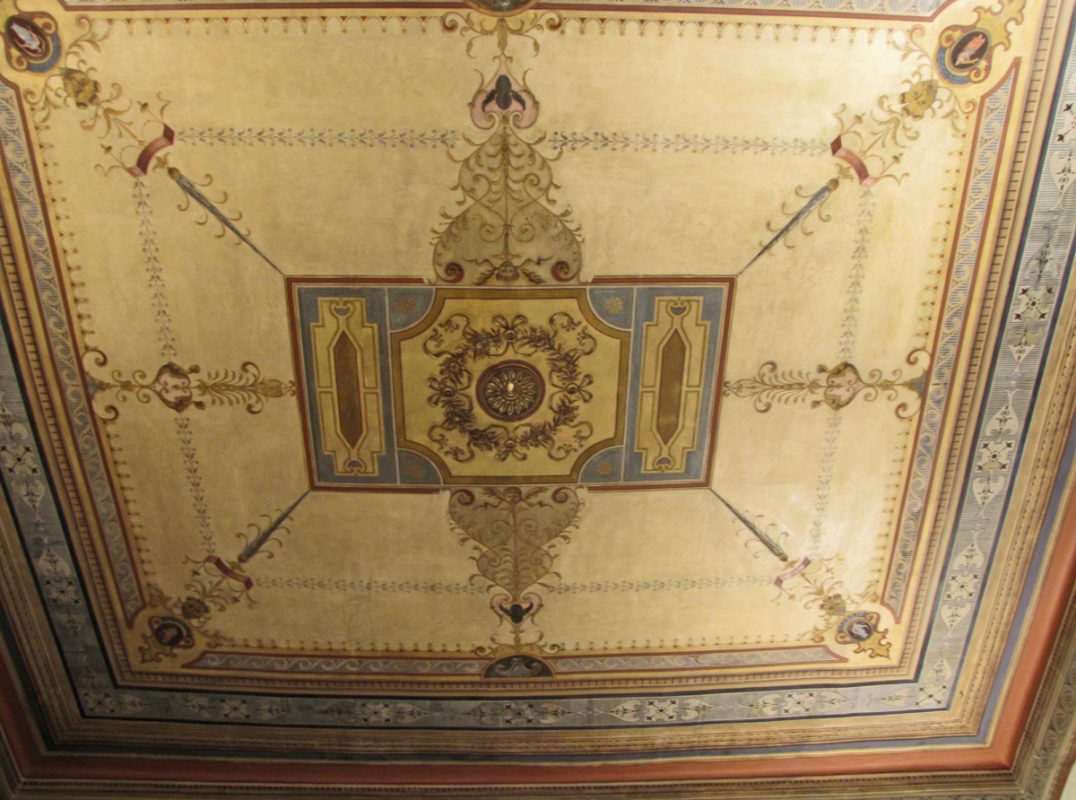 Cieliing space of gallery, Sublime to the Ridiculous, Athens, 2009
This first exhibition organized by Teverina Fine Art will be held in the mid-nineteenth century neo-classical home of Angela Lyras located in the Plaka district of Athens.  Lyras was co-founder along with Nicola Tyson of the acclaimed experimental gallery, "Trial Balloon" - an initiative in the early 1990's New York City art scene that promoted emerging women artists. The exhibition is curated by Francesco Nevola, director of TFA and most recently author of books on the eighteenth century etcher-architect Giovanni Battista Piranesi and on contemporary painter Sharon Thomas.
Artists include: • Edwina Ashton (UK) • Phyllis Baldino (USA)  • Anne Sofie Bird Møller (Denmark) • Paul Desborough  (UK) • Jennifer Graber (USA) • DeAnna Maganias (Greece) • Kirsi Mikkola (Finland) • Giacinto Occhionero (Italy) • Scott (USA) • Sara Kane (USA) • Luca Padroni (Italy) • Maria Papadimitriou (Greece) • Sharon Thomas (UK) • Nicola Tyson (UK)
TFA proposes the work of fourteen artists from six countries. Despite restrictions of distance, several of these artists know each other well and their network of connections reflect the increasingly international nature of our culture. Their work embraces styles ranging from abstraction to figuration, and uses media from film, collage, painting to sculpture.
"From the sublime to the ridiculous… there is but one step." This now famous phrase, was adapted from the words of the Englishman Thomas Paine, one of the founding fathers of the Unites States, who observed in his book, The Age of Reason (1793) that: 'The sublime and the ridiculous are often so nearly related, that it is difficult to class them separately'.