Mansfield, S. Glasgow Women's Library celebrates 21st anniversary, The Scotsman, 2014
Mansfield, S., A Perfect Birthday, The Scotsman Weekend Life Magazine, 2014. p16-17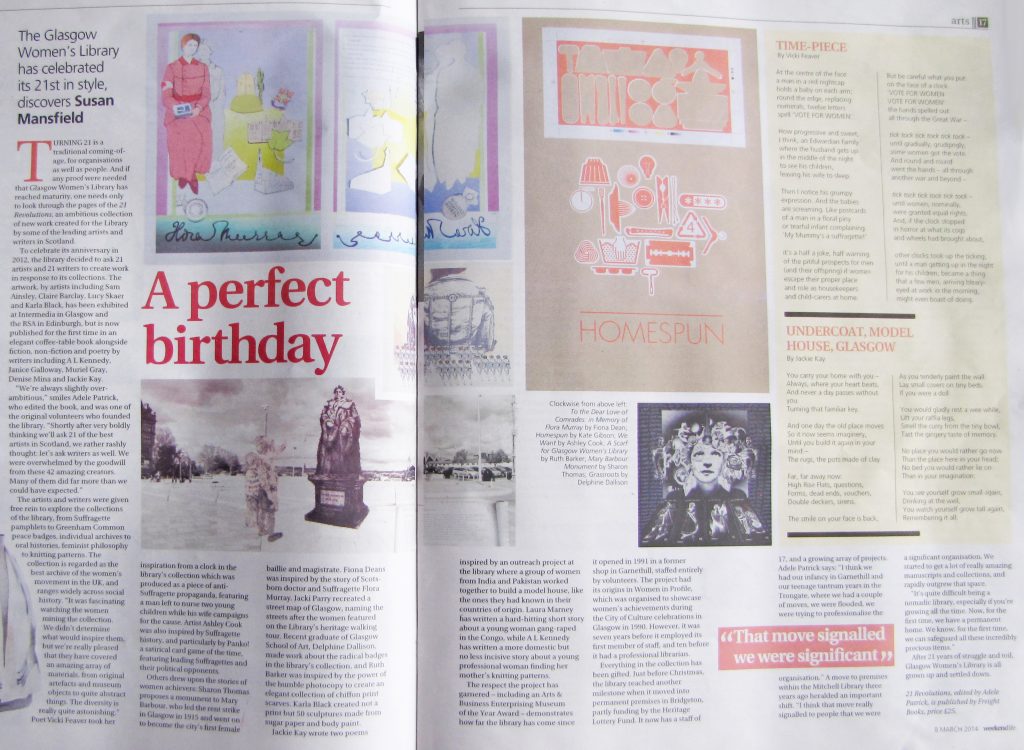 TURNING 21 is a traditional coming-of-age, for organisations as well as people. And if any proof were needed that Glasgow Women's Library has reached maturity, one needs only to look through the pages of the 21 Revolutions, an ambitious collection of new work created for the Library by some of the leading artists and writers in Scotland.
To celebrate its anniversary in 2012, the library decided to ask 21 artists and 21 writers to create work in response to its collections. The artwork, by artists including Sam Ainsley, Claire Barclay, Lucy Skaer and Karla Black, has been exhibited at Intermedia in Glasgow and the RSA in Edinburgh, but is now published for the first time in an elegant coffee-table book alongside fiction, non-fiction and poetry by writers including A L Kennedy, Janice Galloway, Muriel Gray, Denise Mina and Jackie Kay.
"We're always slightly over-ambitious," smiles Adele Patrick, who edited the book, and was one of the original volunteers who founded the library. "Shortly after very boldly thinking we'll ask 21 of the best artists in Scotland, we rather rashly thought: let's ask writers as well. We were overwhelmed by the goodwill from these 42 amazing creators. Many of them did far more than we could have expected."
The artists and writers were given free rein to explore the collections of the library, from Suffragette pamphlets to Greenham Common peace badges, individual archives to oral histories, feminist philosophy to knitting patterns. The collection is regarded as the best archive of the women's movement in the UK, and ranges widely across social history. "It was fascinating watching the women mining the collection. We didn't determine what would inspire them, but we're really pleased that they have covered an amazing array of materials, from original artefacts and museum objects to quite abstract things. The diversity is really quite astonishing."
Poet Vicki Feaver took her inspiration from a clock in the library's collection which was produced as a piece of anti-Suffragette propaganda, featuring a man left to nurse two young children while his wife campaigns for the cause. Artist Ashley Cook was also inspired by Suffragette history, and particularly by Panko! a satirical card game of the time, featuring leading Suffragettes and their political opponents.
Others drew upon the stories of women achievers: Sharon Thomas proposes a monument to Mary Barbour, who led the rent strike in Glasgow in 1915 and went on to become the city's first female baillie and magistrate. Fiona Deans was inspired by the story of Scots-born doctor and Suffragette Flora Murray. Jacki Parry recreated a street map of Glasgow, naming the streets after the women featured on the Library's heritage walking tour. Recent graduate of Glasgow School of Art, Delphine Dallison, made work about the radical badges in the library's collection, and Ruth Barker was inspired by the power of the humble photocopy to create an elegant collection of chiffon print scarves. Karla Black created not a print but 50 sculptures made from sugar paper and body paint.
Jackie Kay wrote two poems inspired by an outreach project at the library where a group of women from India and Pakistan worked together to build a model house, like the ones they had known in their countries of origin. Laura Marney has written a hard-hitting short story about a young woman gang-raped in the Congo, while A L Kennedy has written a more domestic but no less incisive story about a young professional woman finding her mother's knitting patterns.
The respect the project has garnered – including an Arts & Business Enterprising Museum of the Year Award – demonstrates how far the library has come since it opened in 1991 in a former shop in Garnethill, staffed entirely by volunteers. The project had its origins in Women in Profile, which was organised to showcase women's achievements during the City of Culture celebrations in Glasgow in 1990. However, it was seven years before it employed its first member of staff, and ten before it had a professional librarian.
Everything in the collection has been gifted. Just before Christmas, the library reached another milestone when it moved into permanent premises in Bridgeton, partly funding by the Heritage Lottery Fund. It now has a staff of 17, and a growing array of projects.
Adele Patrick says: "I think we had our infancy in Garnethill and our teenage tantrum years in the Trongate, where we had a couple of moves, we were flooded, we were trying to professionalise the organisation." A move to premises within the Mitchell Library three years ago heralded an important shift. "I think that move really signalled to people that we were a significant organisation. We started to get a lot of really amazing manuscripts and collections, and rapidly outgrew that space.
"It's quite difficult being a nomadic library, especially if you're growing all the time. Now, for the first time, we have a permanent home. We know, for the first time, we can safeguard all these incredibly precious items."
After 21 years of struggle and toil, Glasgow Women's Library is all grown up and settled down.
Excerpts from 21 Revolutions:
Time-piece, by Vicki Feaver
At the centre of the face a man in a red nightcap
holds a baby on each arm;
round the edge, replacing
numerals, twelve letters
spell 'VOTE FOR WOMEN'.
How progressive and sweet,
I think, an Edwardian family
where the husband gets up
in the middle of the night
to see his children,
leaving his wife to sleep.
Then I notice his grumpy
expression. And the babies
are screaming. Like postcards
of a man in a floral piny
or tearful infant complaining
'My Mummy's a suffragette!'
it's a half a joke, half warning
of the pitiful prospects for men
(and their offspring) if women
escape their proper place
and role as housekeepers
and child-carers at home.
But be careful what you put
on the face of a clock.
'VOTE FOR WOMEN
VOTE FOR WOMEN'
the hands spelled out
all through the Great War –
tick tock tick tock tick tock –
until gradually, grudgingly,
some women got the vote.
And round and round
went the hands – all through
another war and beyond –
tick tock tick tock tick tock –
until women, nominally,
were granted equal rights.
And, if the clock stopped
in horror at what its cogs
and wheels had brought about,
other clocks took up the ticking,
until a man getting up in the night
for his children, became a thing
that a few men, arriving bleary-
eyed at work in the morning,
might even boast of doing.
Undercoat, Model House, Glasgow by Jackie Kay
You carry your home with you –
Always, where your heart beats,
And never a day passes without you
Turning that familiar key.
And one day the old place moves
So it now seems imaginery,
Until you build it again in your mind –
The rugs, the pots made of clay
Far, far away now:
High Rise Flats, questions,
Forms, dead ends, vouchers,
Double deckers, sirens.
The smile on your face is back,
As you tenderly paint the wall
Lay small covers on tiny beds.
If you were a doll
You would gladly rest a wee while,
Lift your raffia legs,
Smell the curry from the tiny bowl,
Tast the gingery taste of memory.
No place you would rather go now
Than the place here in your head;
No bed you would rather lie on
Than in your imagination:
You see yourself grow small again,
Drinking at the well,
You watch yourself grow tall again,
Remembering it all.